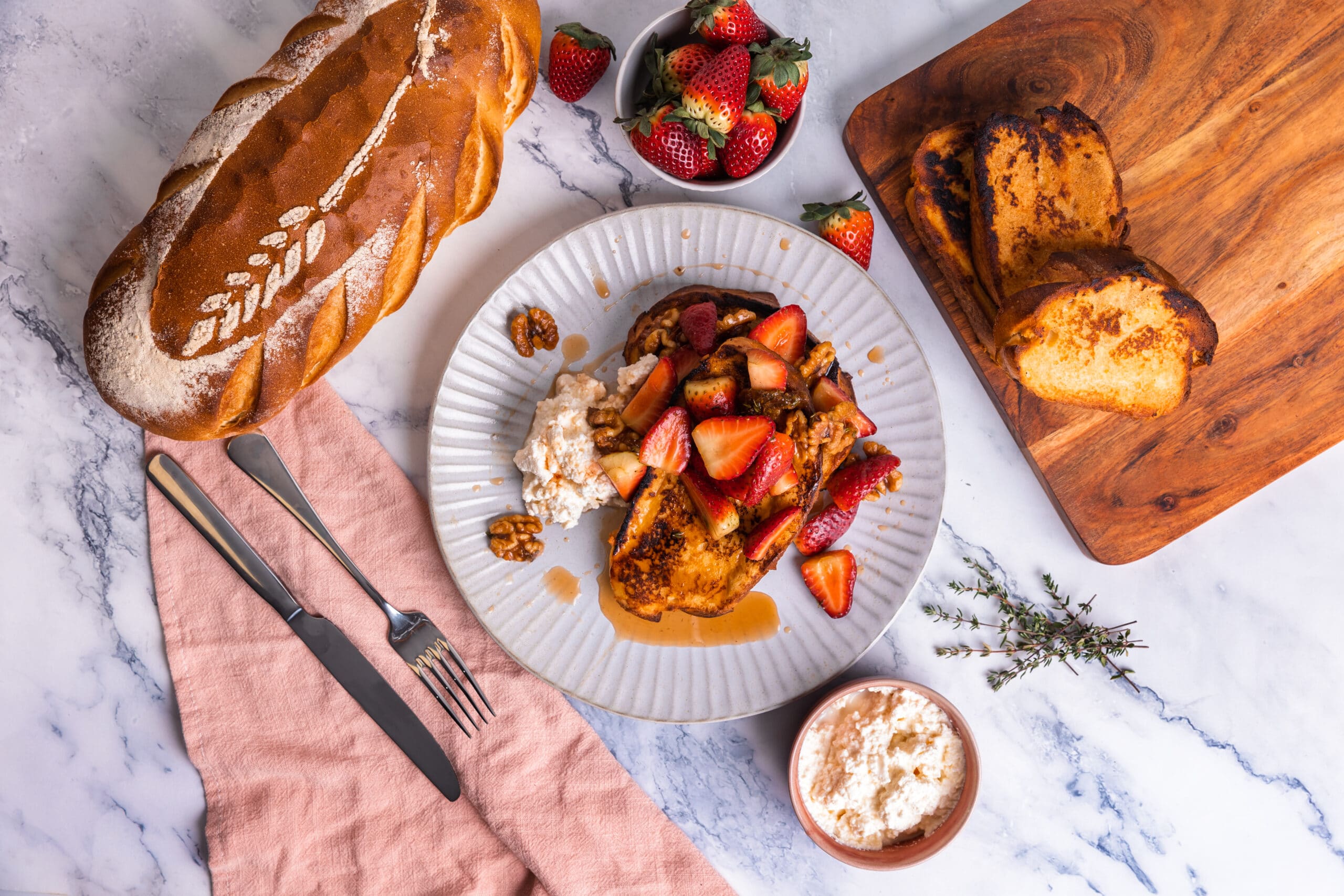 Maple Roasted Walnut and Strawberry Sourdough French Toast
Serves  4                     Difficulty  Medium
Delight in our Sourdough French Toast with roasted strawberries, walnuts, ricotta, and thyme-infused maple syrup. A treat to savor!
Topping
Ingredients
250g punnet strawberries
4 tablespoons maple syrup
4 sprigs thyme
1 tablespoon butter
½ cup walnuts
1 cup ricotta
Method
Preheat your oven to 200°C.
Topping:
STEP 1
Wash and dry strawberries and cut in half.
STEP 2
Line a small roasting pan with non-stick baking paper.
STEP 3
In a bowl, melt the butter. Once melted, stir in the maple syrup, thyme leaves and walnuts.
STEP 4
Bake for 10 minutes.
STEP 5
Remove from the oven, stir through strawberries and set aside.
French Toast
Ingredients
1 Bakers Delight Sourdough Loaf (1-3 days old)
4 eggs
¾ cup milk of choice
1 tablespoon brown sugar
1 teaspoon vanilla extract
4 tablespoons butter
Pinch of salt
Sourdough French Toast:
STEP 1
Slice the Bakers Delight sourdough into 2cm thick slices and place in a single layer in a large baking dish.
STEP 2
In a large bowl, whisk together eggs, milk, brown sugar, salt, and vanilla extract.
STEP 3
Pour the mixture over the bread slices, letting them soak for 5 minutes on each side.
STEP 4
Heat 1 tablespoon of butter in a large non-stick pan. Once the butter is melted, place ¼ of the soaked bread in the pan (you'll need to do around 4 batches, so patience is key!).
Cook until golden brown on both sides.
STEP 5
Transfer onto a lined baking tray and place in the oven to keep toasty while you cook the remaining bread.
Assembly:
Top with ricotta, roasted walnuts and strawberries.
Drizzle with the remaining syrup from the roasting pan, trust us – this is delicious!
Share your creation and tag us at @bakersdelightnz – happy indulging!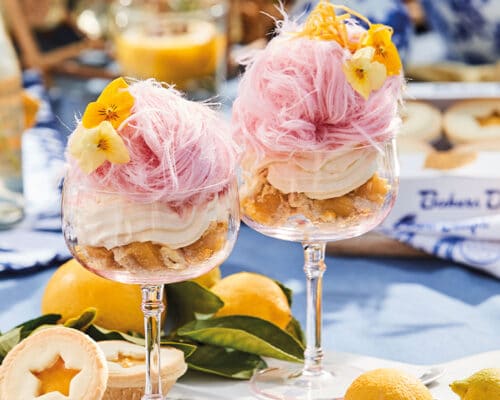 ChristmasServes  6                     Difficulty  Easy AAdd some extra zest to your festive dinner party with this Lemon Cheers-Cake recipe. Pick up some delicious Lemon Tarts and get ready to cheers your cake!Ingredients 6 Bakers Delight Lemon Tarts 1 lemon,...