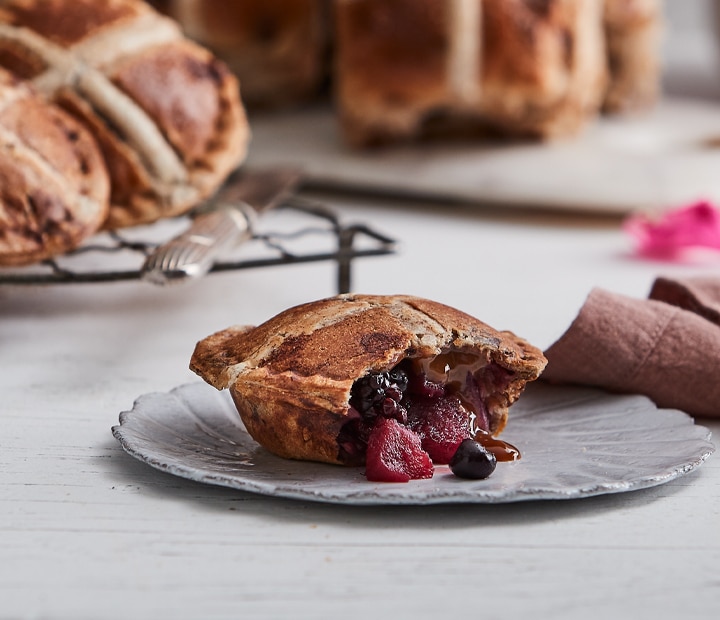 Serves
  6                    
Difficulty
  Medium
Looking to spice up our Apple & Cinnamon Hot Cross Buns this Easter? We have the apple to your pie! Whip out your pie maker and Hot Cross Buns to create this deliciously sweet recipe… it is as easy as pie.
Ingredients
6 Apple & Cinnamon Hot Cross Buns, halved
385g tin apples, strained
75g (1/2 cup) frozen mixed berries
1 tbs vanilla bean paste
1 tbs caster sugar
1 tsp orange zest
1/4 cup caramel sauce
Method
STEP 1
Place apples, berries, vanilla bean paste, caster sugar and orange zest into a medium sized saucepan over a low heat. Gently stir for 3-4 minutes or until sugar is dissolved and mixture combined. Set aside to cool slightly
STEP 2
Pre-heat pie maker. Using a rolling pin, gently roll each Apple & Cinnamon Hot Cross Bun until large enough to fit into your pie maker moulds
STEP 3
Place the base of one Hot Cross Bun into the pie maker, add some apple and berry filling and caramel
STEP 4
Repeat steps until pie maker is full, top each with remaining Hot Cross Bun halves and cook for 3-4 minutes or until golden. Serve immediately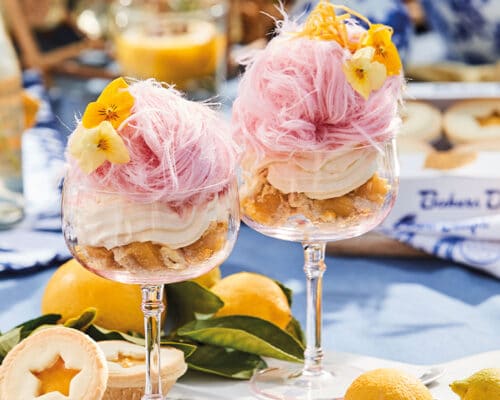 ChristmasServes  6                     Difficulty  Easy AAdd some extra zest to your festive dinner party with this Lemon Cheers-Cake recipe. Pick up some delicious Lemon Tarts and get ready to cheers your cake!Ingredients 6 Bakers Delight Lemon Tarts 1 lemon,...