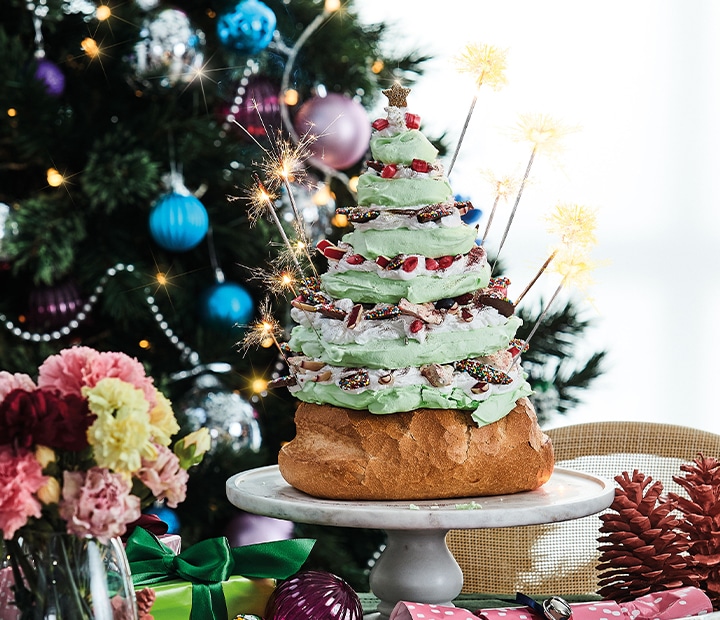 Serves
  6-8                     
Difficulty
  Easy
We have a TREE-mendous dessert recipe for you this Christmas! Our Christmas Tree Cob is decorated with all things colourful and sweet to keep the kids entertained this silly season!
Ingredients
1 Bakers Delight White Cob Loaf, top removed and hollowed
1 x Pavlova magic
40 drops green dye
900g double thick custard
2 cup (270g) raspberries
2 cups (300g) blueberries
1 cup milk chocolate, grated
2 1/2 cups (625ml) cream, whipped
To Garnish
Cherries
Rocky Road
Nougat
Edible Glitter
Sparklers
Freckles
Red Liquorice Bullets
Method
STEP 1
Pre heat oven to 180 C
STEP 2
Line 3 baking trays with greaseproof paper. Trace off six circles, at 17cm, 15cm, 12cm, 8cm, 5cm and 3cm diameter. Set aside
STEP 3
Place Pavlova Magic and green dye in a mixer bowl and follow packet instructions
STEP 4
Transfer mixture onto each traced circle and using a spatula shape accordingly. Bake in oven for 25 min, turn off heat and leave in the oven until completely cooled before removing meringues
STEP 5
Cut a lid off the top of the cob loaf and hollow out filling. In a separate bowl combine custard, half the raspberries, half the blueberries and grated chocolate
STEP 6
To build the cob, fold the berries and chocolate through the custard and fill cob. Top with the 17cm meringue, spread with a generous amount of whipped cream and sprinkle with a small amount berries and assorted garnishes. Repeat steps with remaining meringue disks to create a Christmas tree
STEP 7
Garnish the tree with remaining sweets and sparklers. Serve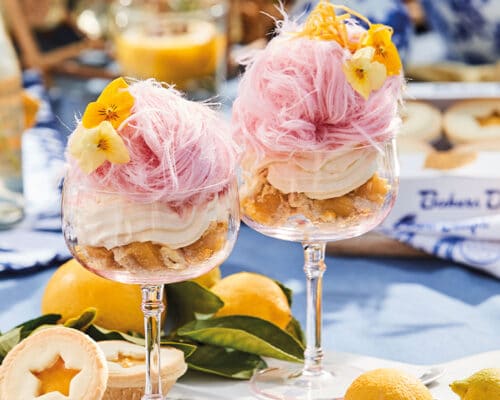 ChristmasServes  6                     Difficulty  Easy AAdd some extra zest to your festive dinner party with this Lemon Cheers-Cake recipe. Pick up some delicious Lemon Tarts and get ready to cheers your cake!Ingredients 6 Bakers Delight Lemon Tarts 1 lemon,...