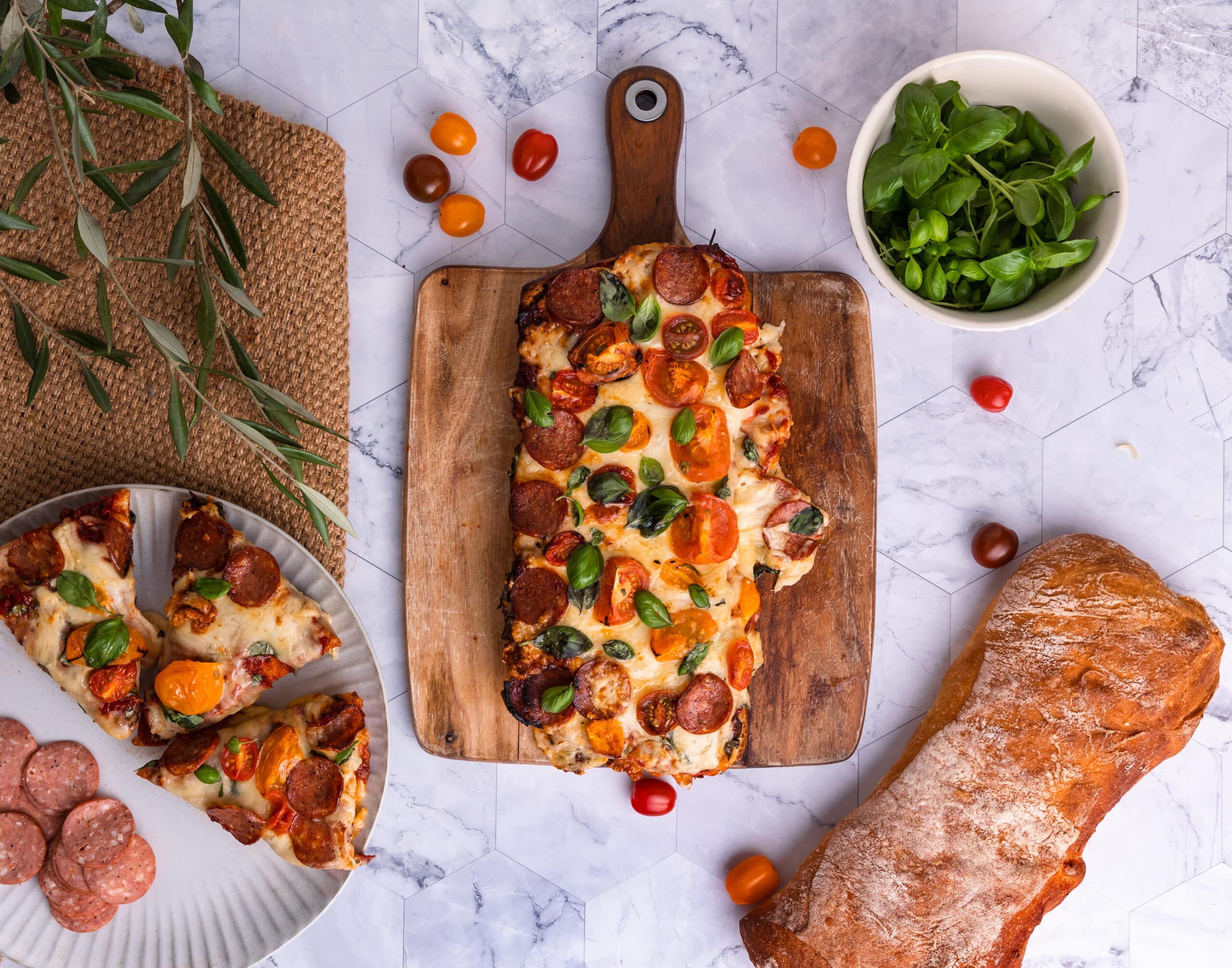 Cheesy Pepperoni Ciabatta Pizza
Serves
  2                    
Difficulty
  Medium
Indulge in the delectable Cheesy Pepperoni Ciabatta Pizza! This promises a scrumptious, cheesy, bubbly delight in just 15 minutes.
Ingredients
1 loaf of Bakers Delight Ciabatta
2 tablespoons of olive oil
3/4 cup of tomato paste
3/4 cup of your favourite relish
1 bunch of fresh basil (half for sauce, half for topping)
1 teaspoon of dried oregano
1 cup of freshly grated Gruyère cheese
1 cup of freshly grated mozzarella cheese
1 cup of freshly grated provolone cheese
½ cup of finely grated Parmesan cheese
100g pepperoni
250g cherry tomatoes
Method
Preheat your oven to 200°C.
STEP 1
In a bowl, whip up the pizza sauce by combining tomato paste, your favourite relish, and dried oregano.
STEP 2
Slice the Bakers Delight ciabatta in half lengthways to create two flat ciabatta pizza bases. Drizzle both bases generously with olive oil.
STEP 3
Slather the pizza sauce evenly on both ciabatta bases & lightly sprinkle half of the chopped fresh basil over the top.
STEP 4
In a separate bowl, mix together the Gruyère, mozzarella, provolone, and parmesan cheeses. Sprinkle the cheese mixture over the pizza sauce.
STEP 5
Slice the cherry tomatoes in half and scatter them over the cheese. Finally layer the pepperoni slices on top.
STEP 6
Place the prepared ciabatta pizzas in the preheated oven and bake for 15-20 minutes, or until golden and the cheese is melted and bubbly.
STEP 7
Remove from the oven and top with the remaining fresh basil for the final touch.
Slice, serve, and enjoy this cheesy pepperoni delight!
Don't forget to tag us in your delicious creations @bakersdelightnz.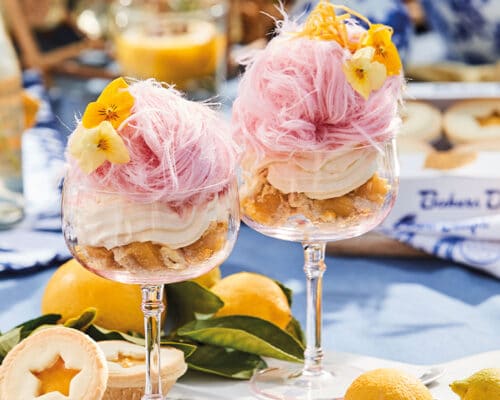 ChristmasServes  6                     Difficulty  Easy AAdd some extra zest to your festive dinner party with this Lemon Cheers-Cake recipe. Pick up some delicious Lemon Tarts and get ready to cheers your cake!Ingredients 6 Bakers Delight Lemon Tarts 1 lemon,...